EU BRILLSTEIN SECURITY AGENCY
EUBSA is the main BSG partner for protection, training and private military services, as well as a global supplier of services to solve any sort of security problem a client might encounter.
THE EUBSA teams and staff offers the very best of professional services, worldwide. The EUBSA staff is not only highly skilled but also extremely motivated in order to supply the best possible services to the client. EUBSA offices are licensed representatives of the BSG and fully compliant to the high BSG quality standards.
Paladin Intelligence and Information Services (PIIS, english)
PIIS is a sub-division of EUBSA BV Inc. and specializes in anti-espionage, intelligence services (both corporate and military) and information collection, data protection, IT security and all related services. At the same time, PIIS offers professional investigation services worldwide, anti-fraud investigations and services.
Paladin Risk Assessment International (PRAI)
PRAI bietet Schutzbriefe gegen Kriminalität und Kapitalverlust für Privat und Unternehmen. Schutzbriefe dienen zur kosteneffektiven Lösung gegen häufige Probleme, die viele Haushalte und fast alle Unternehmen betreffen.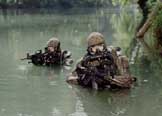 Private Military
The STOP and ERT teams are some of the world's best and most professional private military teams available on this planet. Experienced, skilled professional soldiers will serve our clients to face and solve any kind of threat.
Security training - BSA academy
Die EUBSA training academy bietet Ihnen eine Vielzahl beruflicher Ausbildungsgänge sowie privater Ausbildungen für Sicherheit und Selbstschutz, zB.
ATS und israelisches Krav Maga
,
Personenschutz, Ermittler, Sicherheitsmanager, Sky Marshal
uvm.
Neuer Recruitment-Partner der BSG und EUBSA ist die Personalvermittlung EUBSA
Mehr Informationen über die diversen Ausbildungen im Sicherheitsbereich finden Sie hier...